Soundtrack Extras | Home
Air Biography: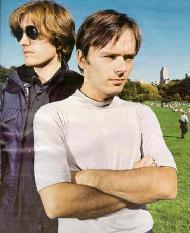 Despite of the fact that Air cite their influences as the Beach Boys, the Beatles and Burt Bacharach they are, undoubtedly, one of the most exciting sounds to emerge from '90s Electronica. Call it what you want- ambient/lounge/disco/pop/kitsch/moogweirdness (!) Air have succeded in producing a sound that is both futuristic and retro, not quite fitting into any cosy niche ... In the words of Nicolas, they are akin to the moon which has been "here for so long now and we still want to go there...it's like music."

Godin and Dunkel both met in University in Paris where Dunkel was already a member of the 'indie-rock'band 'Orange'. Fellow member Alex Gopher introduced Godin to Orange and who soon became a bandmember. Gopher then left whilst Godin and Dunkel continued, finally morphing into Air in 1995. From there they proceeded to release singles on Mo Wax and Source (based in France).

In July 1997 an acumulation of their four previous Eps, Premiers Symptomes, was released on Source/Virgin and provided a great taste of what was to come. Premiers Symptomes was, disappointingly, deleted in the UK in March 1999. January 1998, however saw the release of the sublime Moon Safari, charting at number 5 inthe UK Charts, giving birth to the legend that is 'Sexy Boy', 'Kelly Watch the Stars!', and 'All I need' featuring the hauntingly delicate vocals of American singer Beth Hirsch. Armed with Moogs (offically the coolest word in the world). Air has also released the score to 'Virgin Suicides' directed by Sophia Coppola. 'Playground Love' is the first single from it and has received lots of radio airplay. They have given two concerts in America in promotion of the score.
Their latest album is '10 000Hz Legend' which gives rise to a new air sound, sounding slightly less retro and more alt rock, ish.